Education Center
When it comes to your financial future, knowledge is the critical first step.
Seminars and Workshops: Our client workshops, appreciation events, speaking engagements and presentations provide an opportunity for you to receive additional financial education at no cost. We offer informational seminars and guest speakers as well as educational handouts, reference materials and product literature.
We invite all clients, referrals and visitors to attend our events. Please take the opportunity at these events to request a private consultation scheduled at your convenience.
Please Click Here
Would You Like More Information?
• Do you want to arrange for a private group event?
• Would you like Ronald to speak at a corporate or other business event?
• Would you like information on our unique Family Reunion presentations?
• Do you want to arrange for Ronald to speak at a charitable planned giving event?
Please Click Here
Articles and Videos
Our articles and videos provide you with first rate information and the most recent views and opinions of experts in the field and of our top rated staff.
Watch Ron's Reports
as Seen on National Television
Books & Reports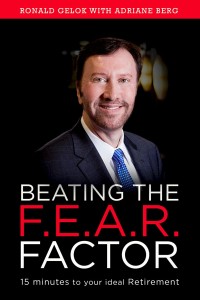 Beating the F.E.A.R. Factor–15 Minutes to Your Ideal Retirement, with Adriane Berg, WealthBuilder Press 2015.  This book presents a single, simple concept. You can craft a stress-free financial future if you are open to owning certain very specialized products designed to see to it that your gains will not be lost in bad stock market years, participate when the stock market indexes have good years, guarantee a specific return on your money that you can count on for income, distribute that income tax-free, or tax-advantaged, provide a legacy to a loved one, give you cash if you need to pay for long-term care expenses so they won't break the bank. In other words, create a system that solves the money problems that we normally face after we retire.
Are you a licensed agent or advisor?