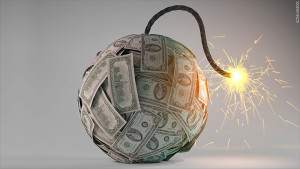 Right now, there is legislation going through Congress that could cost you tens of thousands — if not hundreds of thousands — of dollars in taxes for your family. This legislation, which represents a simple rule change, has achieved broad bipartisan support.
What is this simple rule change? Well, it goes back to an old rule on taxation regarding inherited IRA accounts. The old (and quite possibly soon-to-be revived) rule dictates that when IRAs are inherited by your children or grandchildren, the account must be completely paid out over a five-year period.
The current law allows an inherited IRA to be stretched out, or continued, over the lifetime of your children or grandchildren. Essentially, the tax deferral on the account can continue for as many as three generations. The rule change would accelerate your or your children's tax liability.
Let's say you pass away at age 85 with $1 million in your retirement accounts. You leave that money to your two children and they both inherit $500,000. They would have to pay their ordinary taxes, plus taxes on the additional $100,000 they would receive over a five-year period.
During that time, your adult children may be in their 50s and 60s. For many middle-aged and older individuals, this represents their highest earning years, and as a result, they're likely in a high tax bracket. That additional $100,000 in income (per year for five years) may very well push them into the maximum tax bracket of 39.6 percent, if they aren't there already — especially if they're married and file taxes jointly.
We have a solution to this potential tax time bomb — a cost-effective strategy to defuse the bomb. That solution? Get your IRA money moved into tax-free status, or possibly moved out of your taxable estate, if that's your objective. We can show you how to legally avoid taking required minimum distributions every year after the age of 70 ½.
Though the legislation to change the taxation rule for IRAs has such wide support in Congress, we don't expect the rule change to happen this year, as it is an election year. In 2017, we may be telling a very different story. The U.S. government is over $19 trillion in debt — is your retirement account Washington, D.C.'s next tax target?
Don't let that happen. Pick up the phone and dial 800-467-8152 to get in touch and set up a 15-minute strategy session. We'll work with you to create a custom report to diffusing your tax time bomb — and to save your retirement savings. The innovative strategies we use have been used by knowledgeable and wealthy people for decades. Now, we're bringing these same strategies to the middle and upper middle class, as well as retirees. Tax planning and retirement planning has never been more important than it is today.